When the rest of the KOS students have joined their families during last midterm break, we, Sciencess Board members sacrificed some of our days going to Cherating for a program that aimed to build and to strengthen the ukhuwah among us. Formally it was named Induction Course, but the modules executed during the days weren't as formal. It was a relaxing and enjoyable one but in the same time it had content in it. It was started at the kulliyyah with warming session with the new Deputy Dean of Student Affairs, Prof Dr. Ahmad Aman and Assistant Director of KOS, Bro Malik Abdul Hadi on the night of January 19, 2007.
Held particularly at Sanctuary Resort on the next day, we were accompanied by the breath-taking wind and scenery of Laut China Selatan (China East Coast is it?). Some of the modules were performed near the beach like games, musical drama competition and aerobic exercise (it wasn't like what you can imagine I tell you!) where we were challenged with activities like preparing Beach Idol (I couldn't help to stop laughing when looking the idols after being groomed by their group members), acting while singing, and dancing together with the beat of Madu and Racun song. Well, some of us haven't had experience in some of the activities and that was our first time doing so. But everyone really gave commitment and didn't really mind to do things like singing, acting, posing etc because we were there to enjoy, but in the same time we could know each other much better.
Meanwhile, for activities like ice breaking, discussion, Session with Presidency, summing things up and not to mention praying were held in the main room – our president's room. The room was big enough to accommodate people as much as 21 persons in one time. For these activities, we discussed about the strength and weaknesses of ourselves, the society, the kulliyah, the university administration, and of course the students' welfare.
In the end of the program, we have known each other much better. All these while, we only had time in the kulliyyah and during the meeting to see each other, so there's no life, no medium for us to get to know each other and to understand everyone's behavior and characters. So, by undergoing Induction Course, our true color was revealed. Who knows someone likes to improvise songs? Who knows the other someone has problem with his or her image? Who knows some others have problems with bunch of things in mind that affect his or her facial expression? Almost everything was revealed during this program, so we could understand each other better, and that what made our ukhuwah stronger.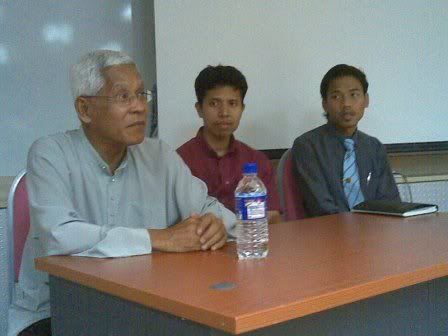 Warming session


Cherating


During Session with Presidency


..... :D


Like on the dessert. LOL


The game.


Sempoi group's Beach Idol


Yusof being groomed by his group member.


During SWAT session.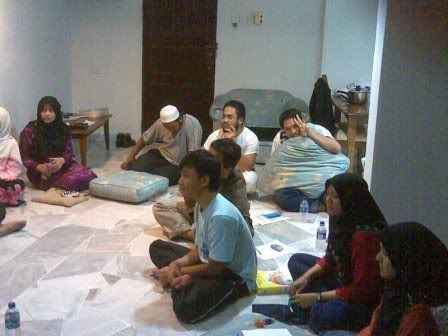 During SWAT session II.


Sanctuary Resort


Dancing with the beat of the song Madu dan Racun. It was fun I tell you!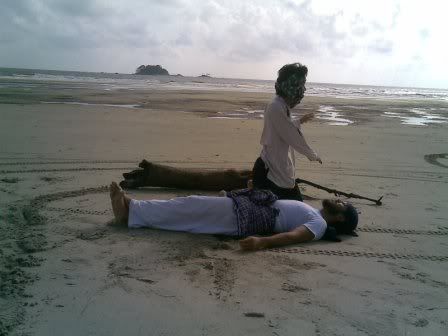 During musical drama competition. Mo'tasim fainted?


There the princesses from the sky came to help Lufti curing his friend.